Many American colleges faced financial insecurity and student enrollment declines during the coronavirus pandemic, according to a June report from the U.S. Department of Education.
But a Mahoning Valley college has actually doubled its enrollment, surpassing other Ohio public universities.
Eastern Gateway Community College, which expanded its service to include the Valley in 2009 and soon followed with its downtown facility just down the hill from Youngstown State University, has seen its student enrollment increase more than 60% from fall 2019 to fall 2020.
Eastern Gateway President Michael Geoghegan said enrollment is up another 20% this fall with more than 47,000 students enrolled nationwide as of Nov. 1.
At the start of the fall 2019 semester, more than 25,000 students were enrolled in the community college nationwide. Student enrollment doubled in fall 2020 with more than 40,000 students enrolled, according to enrollment figures provided by Eastern Gateway, which we verified on the Ohio Department of Higher Education's website.
Eastern Gateway offers in-person courses to four counties in northeast Ohio — Mahoning, Trumbull, Columbiana and Jefferson — and serves students in all 50 states through online courses.
Of Eastern Gateway's 47,575 enrolled students nationwide, more than 7,000 live in Ohio, Geoghegan added.
"Our trend is going against the national trend. ... For community colleges, they're down 14.5% in the last two years," he said, citing an October report from the National Student Clearinghouse.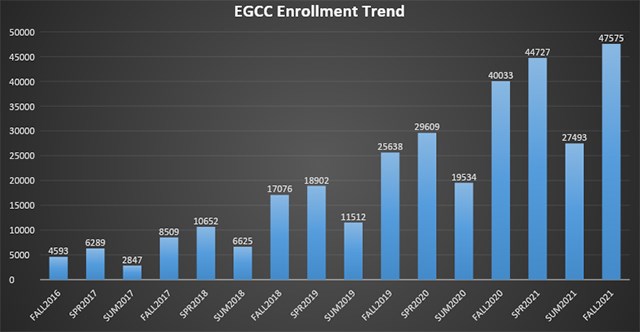 Despite these trends, news hasn't been all good for EGCC. On Tuesday, the university announced its accreditation status was placed on probation by the Higher Learning Commission. The commission addressed several concerns, some including accurate credentials for faculty, proportional faculty-to-student ratios and students getting access to academic advising.
Geoghegan said the university is working to address the commission's concerns.
"Our students go to the top colleges, and they go right into the workforce," he said. "The [commission] seems to be very focused on internal processing versus student outcomes. If you look at our student outcomes, that's performance-based."
Eastern Gateway programs are aimed at accommodating the "non-traditional" student who has prior education, and is looking to join the workforce, said Geoghegan. The average age of enrolled students is 34 years old, he added.
"We have the adult learner, non-traditional student with education coming back and finishing their degree," Geoghegan said.
Eighty-eight percent of Eastern Gateway students were already working remotely when the coronavirus hit, he said.
"We had to convert everyone else, so it didn't have too much of an impact on us," he said. "COVID did not hurt us."
While Eastern Gateway has seen student enrollment increase in the past three years, Youngstown State University is now facing academic cuts due to dropping enrollment.
In October, university officials announced a record-low student enrollment of 11,298, which declined by 1,398 students in the fall 2021 semester.
YSU had 11,649 students enrolled at the university in 2009, when Eastern Gateway opened. It's trended downward since, stabilizing in 2014 and 2015, and continued to trend downward, according to YSU's 2021-2022 university budget.
In fall 2019, Eastern Gateway's Youngstown campus had 1,338 students enrolled, according to figures provided by Eastern Gateway. That grew to 1,650 in the fall 2021 semester. The Steubenville campus, which serves Columbiana and Jefferson counties, had 1,606 enrolled students in fall 2019, now up to 1,900.
Student enrollment headcount is calculated by the number of in-seat students, attending online programs at the downtown campus and through the Credit College Plus program. This number does not include the number of students enrolled across Ohio.
YSU spokesperson Ron Cole said the coronavirus pandemic created potential uncertainty in the area of student enrollment.
"Obviously, all of us in higher education need to continue to explore the most convenient and effective ways for us to deliver our programs, and online is certainly one of those," he said. "We are seeing a lot of really good positive enrollment [online] and it's an area that we will continue to explore."
Cole said YSU is not the only university in Ohio facing a decline in student enrollment.
"What everyone is experiencing, even YSU, is a demographic decrease in the number of high school graduates throughout this region," he said. "High school graduates are a prime market for us to enroll in the university and when those numbers are down, it's going to have an impact on our numbers, as well as numbers in other universities."
Cole said the university offers many nationally accredited programs that are hard to find elsewhere.
"I think that our programs are exceedingly competitive and are top-notch, nationally accredited programs that produce extremely successful graduates," he said. "I think that our current record of more than 100 years is very good and something that we're obviously very proud of."
Geoghegan said Eastern Gateway is focused on offering programs its potential students would be interested in.
"The nice thing about community colleges is that we are very flexible, so we can ... meet the needs of the employers in the region," he said. "We are a little more focused on the workforce, I think, than four-year schools are."
Eastern Gateway has 90 days to present a plan to the Higher Learning Commission to review the criteria needed to meet accreditation status.
The college will be required to show it's addressed the commission's concerns by February 2023. The commission would then visit the college in April and meet the following November to consider removing the probationary status.
Probationary periods last no more than two years, according to the commission.