YOUNGSTOWN — Only six Youngstown State University faculty members are expected to be let go as part of the university's cost-cutting strategy, which includes deactivation of 26 academic programs by next fall, according to a Monday news release.
Two others who also received notices could still be transferred elsewhere in the university and one is retiring.
YSU earlier this month officially announced the sunset of 26 academic programs with little to no enrollment — a cost-cutting measure intended to help the university invest in other programs with the potential for growth, according to a news release.
YSU officials last week estimated fewer than 20 faculty members in the underperforming programs would be facing layoffs or reassignment — a process known as "retrenchment." The university's Ohio Education Association leadership also announced more of its members last week received separate notices that their appointments would not be renewed.
But Monday's news release from the university confirmed only nine faculty members in total have received notices of retrenchment or non-renewal. That's less than 3% of the university's full-time faculty, according to the release. Of the nine, two were offered reassignment and one decided to retire.
Seven of the nine are facing retrenchment, while two won't be renewed. One of the two is assistant professor Jacob Ari Labendz, who runs the university's Center for Judaic Holocaust Studies, Mahoning Matters reported Saturday.
"While these are difficult decisions, they are necessary to further position us for success in the post-pandemic era," YSU President Jim Tressel is quoted in the release.
Of the 26 programs set to end next fall semester, 10 programs have no students; and three have just one. Six other programs, however, have between seven and 12, according to the university: Manufacturing Engineering; Medical Laboratory Technology; Creative Writing; Gerontology; Electric Utility Technology; and Computer Information Systems.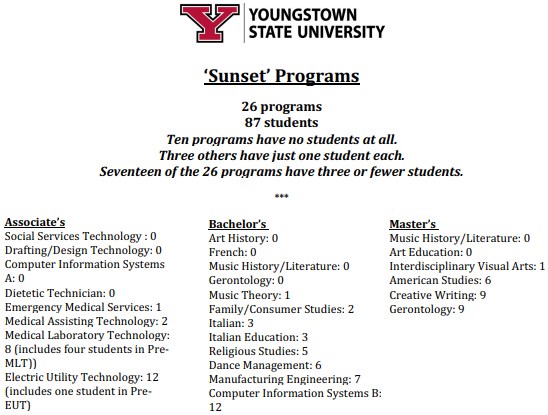 YSU spokesperson Ron Cole said Monday the Computer Information Systems program, specifically, is merging with a "more robust" program now called Information Technology, which incorporates the same topics as the current outgoing program but also teaches designing for database performance and project management.
YSU Provost Brien Smith said all students in the programs set for sunset can still complete their courses.
"Changes such as these can be unsettling," Smith is quoted in the Monday release. "I want to assure students that YSU's future — and your important role in it — remains strong. You have shown much perseverance over the course of the past nearly two years. We remain committed to your success and the success of the entire YSU community.
"As enrollment has declined, we must adjust our program offerings and our faculty resources to ensure that our academic portfolio of programs and courses attracts enrollment, helps students and allows the university to survive and thrive."
University officials are expected to take questions from Valley journalists and the public on the controversial decision during a live panel discussion set for later today.
Provost Smith and YSU's Associate Provost Jen Pintar are expected to take questions from veteran local journalists Bertram de Souza and Cynthia Rickard during a live discussion set to be broadcast at 7 p.m. tonight on WFMJ.com and the Scribbler Publishing Group's YouTube Channel and Facebook page.
Viewers will have the opportunity to submit questions and comments via email at scribblerpod@gmail.com or through Facebook.
Last week, YSU philosophy and faculty union spokesperson Mark Vopat and former liberal arts dean Martha Pallante interviewed with De Souza, criticizing the academic cuts and warning of a lack of trust that does not bode well for the future.
You can watch that interview here: