LORDSTOWN — General Motors announced Tuesday it intends to develop electric vehicle batteries right next door to Lordstown Motors Corp. headquarters.
The news put a smile on the face of Arno Hill, the Lordstown mayor who saw thousands of manufacturing jobs exit the village with the closure of GM's 53-year-old assembly plant in March.
"It's gonna take a couple days to get the smile off my face … with everything coming down the pike, with this announcement," he said Tuesday.
The proposed $2.3-billion investment, a joint venture between GM and LG Chem of South Korea announced in December, is bound for a 158-acre property along Tod Avenue between Salt Springs and Hallock Young roads, just east of the automaker's former Hallock Young Road plant, according to a Tuesday afternoon release from the automaker.
It is projected to create 1,100 new manufacturing jobs.
"This move gets us a step closer to making the state-of-the-art plant a reality and positioning the Mahoning Valley as a major force in technology and electric vehicle manufacturing," GM spokesman Dan Flores is quoted in the release.
"GM is committed to engaging with the community as we develop this project in a responsible and sustainable manner."
The joint venture still requires regulatory approval, but workers could begin preparing its Lordstown site as early as spring, according to GM. The next steps are permitting for new development on the site's about 66 acres of wetlands and seeking village approval of a site plan, which Hill said Tuesday has not yet been filed.
The parcel is currently zoned industrial and valued at $312,300 according to the Trumbull County Auditor's Office. It's listed for a $2.06-million sale price on the JobsOhio website.
The parcel was owned by GM before it filed for bankruptcy in 2009, Flores confirmed. It was liquidated, along with several other GM properties, to Racer Properties LLC in 2011, then sold in 2014 to NorthPoint Development, according to auditor records.
Though NorthPoint has inked a purchase agreement with GM, the sale is still pending, Flores added.
"We're still doing due diligence on the property, still doing soil sampling," he said. "We've essentially agreed on the price."
GM's Tuesday release indicates the automaker considered several suitable sites in the area but chose the Hallock Young site for its size, immediate availability and access to rail, major highway and other infrastructure.
Flores said proposed construction would impact about 66 acres of wetlands in the Mosquito Creek Wildlife Area.
Though the site's state and federal wetlands and water quality permits were filed Friday with the Ohio EPA and U.S. Army Corps of Engineers, digital copies were not available Tuesday.
A wetlands mitigation plan still to be approved by those agencies would create more than 130 acres of new wetlands nearby in the same Mahoning River watershed and provide at least 10 years of monitoring.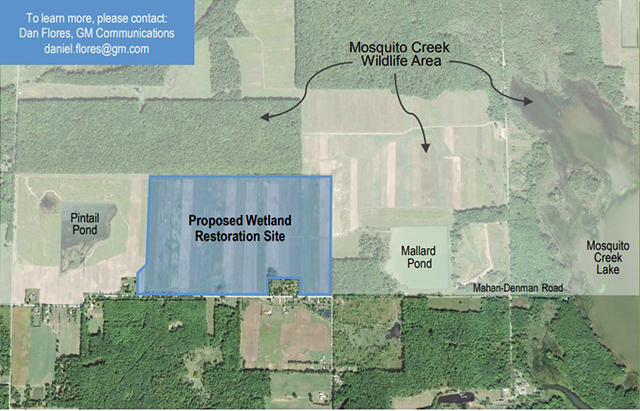 (Contributed photo)
Steve Burns, Lordstown Motors Corp. CEO, said he's "thrilled" about his electric fleet vehicle startup's potential neighbors. He said he hoped GM's proposed electric vehicle battery plant would be situated in Lordstown, but "right next door is perfect."
The Youngstown/Warren Regional Chamber will have two events for local and regional suppliers to connect directly with Lordstown Motors Corp.
At the events, Lordstown Motors leadership will provide a company overview and highlight current and future opportunities to do business with the company.
"We look forward to connecting and working with regional and national suppliers as we transform the Lordstown's Mahoning Valley into 'Voltage Valley,' John LaFleur, Lordstown Motors' chief operating officer, said in a news release.
Attendees are encouraged to register at regionalchamber.com/events for the event that most closely aligns with their service area:
Facility Supplier Procurement Event (for plant contractors and service providers): 8 to 10 a.m. Jan. 29,

Stambaugh

Auditorium, 1000 Fifth Ave., Youngstown; continental breakfast provided; $15 for members, $25 for nonmembers.
Automotive Supplier Procurement Event (for vehicle components and production): 8 to 10 a.m. Feb. 4,

Stambaugh

Auditorium, 1000 Fifth Ave., Youngstown; continental breakfast provided; $15 for members, $25 for nonmembers.
Upon registration, companies will be asked to complete a procurement form detailing their capabilities and relevant experience. This information will be included in a comprehensive procurement guide that will be delivered to Lordstown Motors after the events.
Rich Schmidt, Lordstown Motors' chief production officer, said regional suppliers will be an important part of the company's mission to develop Lordstown into an epicenter of electric vehicle manufacturing.
"We are pleased to support LMC's entry into our market by connecting them to the many quality suppliers and service provider companies in our region that will be part of their ramp-up and production," Sarah Boyarko, the regional chamber's chief operating officer, said.
Reporter Jess Hardin contributed to this report.
A fact sheet from the automaker provides more details on the project. To open a full-sized version, click the icon in the upper-right: